Members, welcome to our August Newsletter.
July General Meeting Resolutions
Unfortunately, there was not a Quorum at the July 20th General meeting, the meeting went ahead without motions being ratified.
Members it is important for business that we have a quorum at the monthly General meetings if for any reason you are unable to attend, please contact the office direct to register your apologies. If any member is having difficulty attending meetings due to health and transport issues, please contact the sub-Branch for assistance on 47285225
Our next General Meeting will be held on the 17th of August at 6pm in the Macquarie Room.
Suicide Prevention Workshop
Wesley Lifeforce will be conducting a "Suicide Prevention Workshop" on Thursday 25th Aug 2022, in the "Castlereagh Room" from 9am to 4pm.
The workshop is being conducted by Wesley Life Force to make members aware of the "triggers" that help identify family members & colleagues who are at risk of suicide.
The workshop is aimed at community members and doesn't assume any prior knowledge. It does cover best practice for suicide intervention and discusses importance of language. A section delves into the needs of the veteran cohort and a specific veteran case study is included.
Members this is a very important course, please notify the office if you would like to attend. The workshop is fully funded by the sub-Branch, morning tea and lunch will be provided.
The course can accommodate up to 20 attendees. If you are interested in attending, please contact the sub-Branch or one of the emergency numbers at the bottom of this Newsletter asap to register your details:
Blaxland Property
The real estate agent has been formally engaged.
Veterans and Wellbeing Train Trip
On Saturday 12th November, an historic diesel locomotive and carriages will be travelling though the Blue Mountains with a drop off at Katoomba for those wishing to have lunch at the Carrington Hotel. For those that wish to go sight-seeing are free to forego the Carrington lunch.
For more details contact John King at the sub-Branch office.
Nepean Valley RSL Day Club
The Nepean Valley RSL Day Club are celebrating their ninth Anniversary with a luncheon to be held on Friday 26th August, if you are interested in attending, please contact the sub-Branch for details.
Mental Wellbeing:
It is important that members continue to look after themselves & their colleagues, members if you are feeling down in any way or just want somebody to talk to, do not hesitate to contact:
Open Arms 1800 011 046
Safe Zone Support 1800 142 072
The Counsellors are trained to address issues of concern to Serving ADF personnel & ex-serving members both male & female.
Members' Welfare
If you become aware of a fellow member that is not coping or is need of any form of assistance, including those that may be admitted to hospital, please do not hesitate to contact the sub-Branch or a member of the executive on the numbers listed at the bottom of this notice.
The club Ltd has arranged for free hearing checks on 18th August from 9.30am to 2.00pm appointments are not necessary.
Important upcoming Dates and Events Dates
Remembrance Day Friday 11th November 2022
Planning is underway for Remembrance Day 2022, applications have been submitted for Joss assistance and Penrith City Council for the use of Memory Park.

100th Rededication of Memory Park
The Memory Park Rededication was held on Tuesday the 2nd August; a commemorative plaque was unveiled by the City of Penrith RSL sub-Branch President, Brian Cartwright and her Worship the Mayor, Councillor Tricia Hitchen.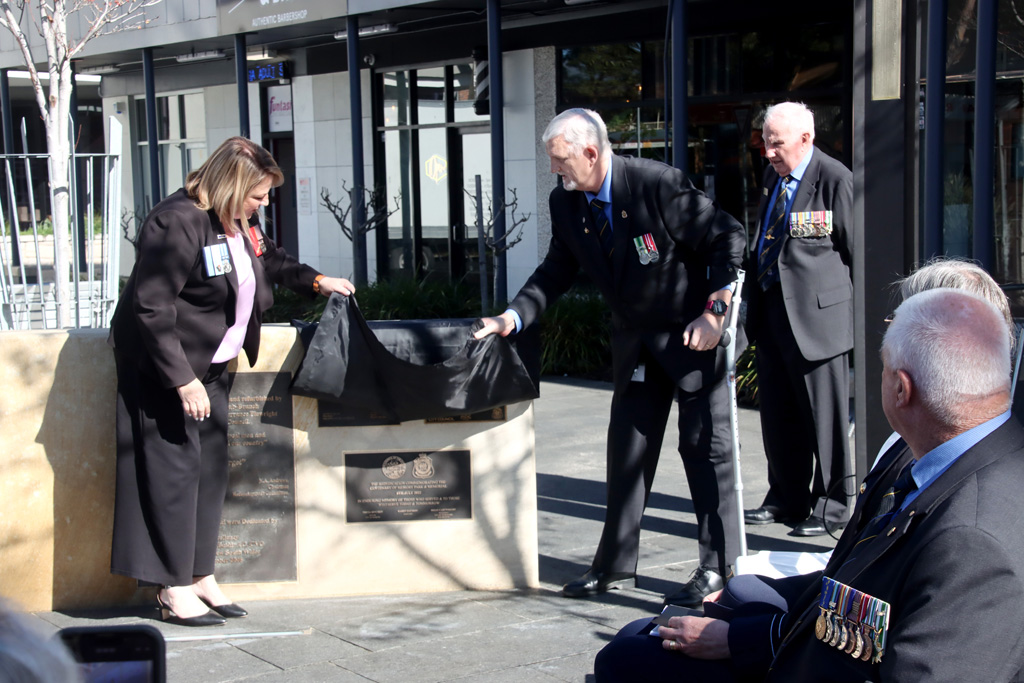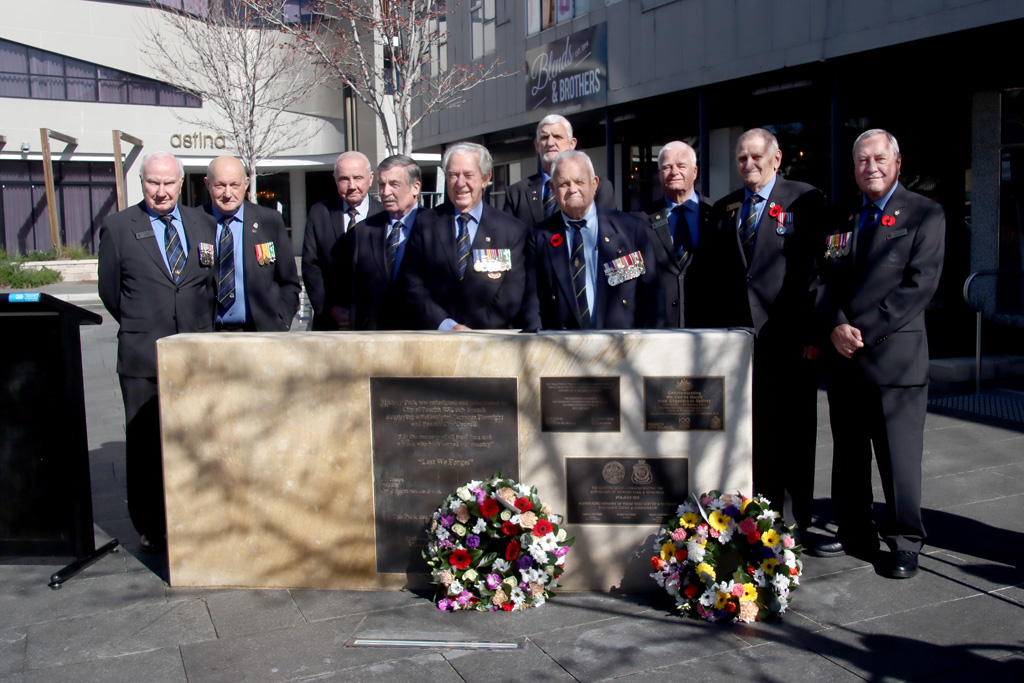 Air Despatch Association Reunion Dinner
On Saturday the 6th August, members of the executive were invited to attend the ADA annual reunion dinner. Thank you to the new association President, Anthony Eddie for the invitation, as well as putting on a great night.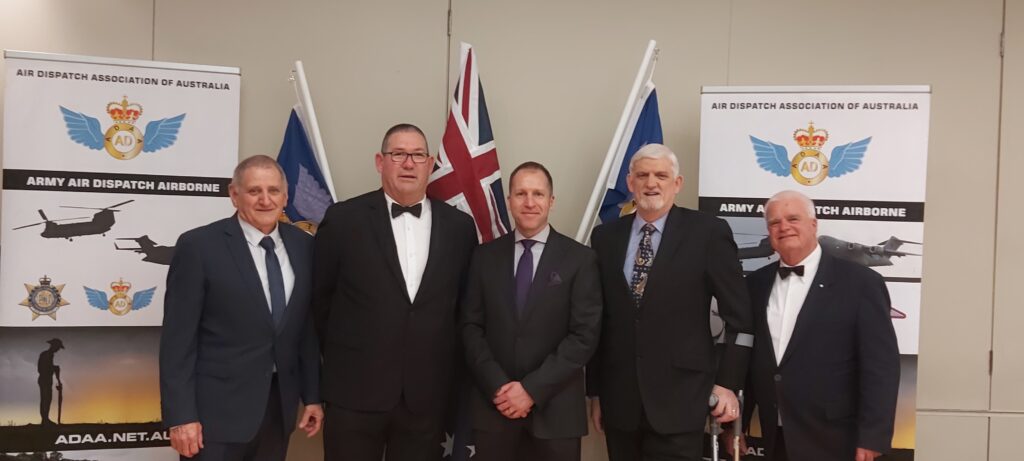 Photo (L to R): sub-Branch VP – Peter Ward, ADA President – Anthony Eddie, ADA Patron – Colonel Andy Harrison-Wyatt, sub-Branch President – Brian Cartwright, sub-Branch VP – John King
Veteran Mates or Neighbours
Don't throw your newsletter away, why not pass it onto a Veteran neighbour or friend that may not be a member of the sub-Branch! If you're a current serving member, please pass it onto a serving colleague. If you are aware of a current serving member or a recent discharged member that is not a sub-Branch member, please invite them along to our next general meeting.
Emergency Contact Numbers
Sub-Branch office – 4728 5225 email: subbranch@penrithrslsubbranch.org.au
Peter Ward – 0408 015 117 email: peterw@penrithrslsubbranch.org.au
Brian Cartwright – 0488 411 222 email: brianc@penrithrslsubbranch.org.au